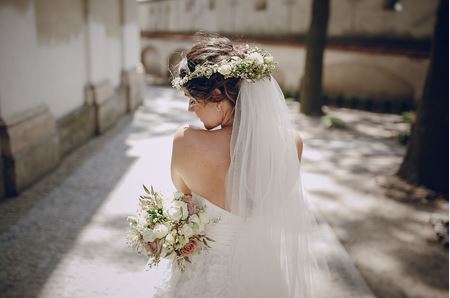 Are you planning a wedding for 2017, and feeling a little uninspired? Some of the old trends can feel so overdone by the time everyone's seen them at so many other weddings. So what's new and trending for weddings next year? Let's explore some of the new options and ideas on the horizon for wedding ceremonies next year.
Updated Dresses
According to the Jewish Journal, today's brides are going for more modern wedding dresses, skipping the big princess dress in favor of a more streamlined silhouette. Expect to see brides choose non-white colors too, including blushes and light blues.
New Food Trends
Sit-down dinners are on their way out, with more and more modern couples choosing to have more of a casual meal with flowing appetizers and snack buffets. The same goes for the cake, too. Rather than the traditional wedding cake, expect to see dessert bars, doughnuts and other delicious options popping up more often.
Also with food, there's a big push for meals that trend toward organic menu items. That means farm-to-table options and delicious, locally sourced food. Keep that in mind while at the next wedding you attend or while planning your reception.
High-Tech Photography
Did you ever think you'd attend a wedding where a drone – not a photographer – takes the photos? Drone photography for weddings is growing in popularity, and we think this will be a big trend in 2017. Drone photography can create really unique photographs from angles that simply aren't possible otherwise. Plus, these quietly operating devices will stay out of the way of the action, meaning they won't disturb your guests' experience during your wedding.
Flower Walls
Just like you'd see on a red carpet, flower walls are very in. Not only is it a gorgeous decorative detail for your reception, it'll give your guests a great spot to pose for photos. Flower walls can be made of fresh flowers in the colors and theme of your reception or offer a more neutral backdrop.
Of course, there's one tradition that will always be needed at a wedding – the officiant! If you need an officiant for your wedding, look no further than Rabbi Richard Polirer. As you start planning your big day, don't forget to book your rabbi! Call Polirer at 954-234-4153 and discuss your wedding today.