Meeting your Bashert(e) – Yiddish for Destiny – is a momentous time in your life. Celebrate it with the right rabbi at your ceremony. I work with YOU to produce YOUR WEDDING CEREMONY, a ceremony to remember. A meaningful combination of my light and personal touch as well as stirring cantorial song (Click Here for a Sample) – I am a rabbi AND a cantor, remember (Okay, Click Here for Another Sample) – this Service will truly reflect YOUR love for each other. I will also give you a four-color personalized Ketubah – wedding document – that will grace the walls of your home for years to come; for those who want a more ornate Ketubah, I will refer you to local artists, and you may purchase one of your own. Your service, like your love, will be a work of art. When you look over your photo album and video, you will fall in love all over again, each time, every time. As you begin your lives together, let me amplify your joy and proclaim it to all on your wedding day.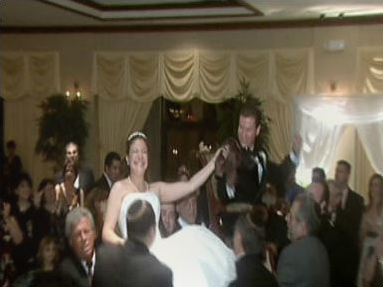 You are getting married! Mazel Tov! Now, it is time to tie yourself to an ages-old-but-forever-young Jewish Past by engaging the services of a knowledgeable, creative, ordained rabbi to conduct YOUR ceremony — Me! I am fully versed in the Traditions of our storied past, and I am equally capable when dealing with the many styles of our Present. I have written and conducted all kinds of wedding services — interfaith, non-denominational, spiritual, and traditional. I put each ceremony together with the wants and needs of the bride and groom in mind, and I carry that ceremony out with my special light-but-sacred-but-light touch.
Special Venue? Destination? I pride myself on my flexibility in creating a wedding special for YOU in any locale or venue. Beach weddings are my specialty! Destinations, international or domestic, are no problem for me. Small or large, intimate or extravaganza, I make this YOUR special day — or night. Have Chupah. Will travel.