If you're not Jewish, you might have wondered what the meaning is of the glass that's smashed at the end of a Jewish wedding. It actually has a great deal of meaning tracing back millennia.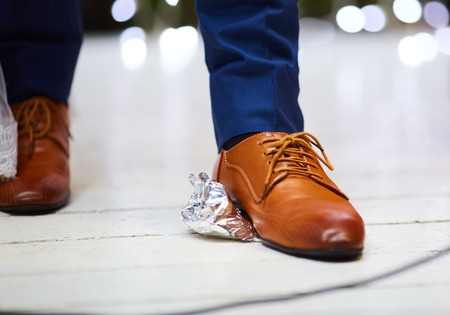 When a couple is married in the Jewish faith, the ceremony typically ends with the groom breaking glass with his foot. Then, the temple erupts in shouts of "mazel tov!" – a Yiddish blessing. InterfaithFamily says that usually, the glass is covered with cloth or placed inside a pouch to prevent injury. Some couples use a wine bottle, while others choose something more delicate and easy to break, like a light bulb.
As anyone who has attended a Jewish wedding before will tell you, this part of the ceremony is beloved by the guests of the bride and groom. The breaking of the glass signifies that the couple has been successfully wed and that the party celebrating their nuptials is about to begin. But it is actually a traditional symbol with much more of a religious significance.
The most traditional association with the breaking of the glass is the destruction of the Temple of Jerusalem. The symbol of the fall of the temple is present in the wedding ceremony to remind the newly married couple of the importance of their faith, says MyJewishLearning.com. When the Temple of Jerusalem was destroyed, the Jewish people were exiled to Babylonia. Their exile was seen as a fulfillment to prophecy, and so served to strengthen the Jewish faith.
To some couples, the breaking of the glass can also serve as a symbol of breaking down barriers – particularly relevant in an interfaith marriage. As Chabad.org notes, the only cure to a fractured or broken thing is to unite and build anew together, and couples may choose to view the broken glass as a reminder that no matter struggles they will face in their life together, they can rebuild whatever breaks into something more strong, lasting and new.
Different people may have different opinions about breaking glass at the end of the ceremony, and however you choose to include this tradition – or not include it – Rabbi Richard Polirer will work with you to honor your choices and traditions in officiating at your wedding ceremony! To learn more about planning a wedding with Rabbi Polirer, call him today at 954-234-4153.