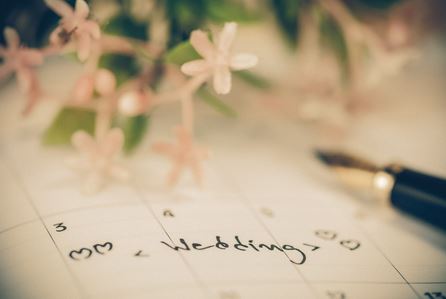 Getting married is a magical time, and is one of the most memorable occasions in anyone's life. No matter who you are, getting married is a really special occasion. However, in some faiths, the date which you are married can be pretty important. If you practice Judaism, there are some dates that are considered better than others. Here are six dates – three great days to consider and three to avoid – to keep in mind as you plan your wedding day:
Consider: Adar (Feb. 27 through March 27, 2017)
A wedding during this month on the Jewish calendar of year can be considered symbolic and beautiful. Adar is a month of celebration and happiness, so any sort of birth, marriage or celebration can be considered special. This month is considered to be a month of joy and celebrations, so holding a wedding at this time can be another great event to enjoy.
Avoid: Purim (March 12, 2017)
While this holiday is often marked by celebrations and festivities, it's not typically a good day for holding a wedding. With so many different events and the traditional end-of-day festive meal with family, there is too much going on to celebrate Purim to make it a day to schedule your nuptials.
Consider: Rosh Chodesh (Jan. 28, Feb. 26, March 28, April 26, May 26, June 24, July 24, Aug. 22, Oct. 20, Nov. 19, Dec. 18)
Rosh Chodesh literally translates as "head of the month" and is recognized at the start of each month of the Jewish calendar. In 2017, there are 11 celebration dates, as Bridal Guide notes, each of which are considered to be a favorable time to be wed in Jewish tradition. Since the Jewish calendar follows the lunar year, there are numerous opportunities throughout the year to schedule your wedding to coincide with Rosh Chodesh, allowing you to plan your wedding for nearly any season you prefer.
Avoid: Yom Kippur (Sept. 30, 2017)
This is considered a day of atonement in the Jewish faith, and it causes synagogue attendance to increase substantially. While some people could argue that atoning for your sins might be appropriate on your wedding day, it's probably best to avoid getting married on this holiday.
Consider: Tishrei (Oct. 1-3, 2017)
Tishrei is the day after Yom Kippur. As we discussed above, Yom Kippur should be avoided, but the days between Yom Kippur and Sukkot are generally recognized by those of the Jewish faith when people are "preoccupied with mitzvot," according to Chabad.org. As a result, it is quite appropriate to get married around this time.
Avoid: Rosh Hashanah (Sept. 20-22, 2017)
The days in the week before Yom Kippur should also be avoided. This period, Rosh Hashanah, is the period of the Jewish New Year events. Tradition calls for those of the Jewish faith to not work, meaning even if you were planning a wedding, your caterers and other vendors shouldn't be working – not to mention your rabbi. Observe the new year instead and look at other dates for your wedding.
Rabbi Richard Polirer offers Jewish and interfaith wedding services around Miami and throughout South Florida. Let him work with you to plan the perfect date for your marriage or interfaith wedding. Call Rabbi Polirer today at 954-234-4153 to discuss your wedding plans today.